Hello I am Vamp. Welcome to my new Web page! I built it using Tripod's One-minute Page builder.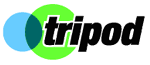 This is the Tripod logo.
Now is your chance to catch up
on the latest news and
weather. This page also
includes local news for the
state of your choice and more!
[an error occurred while processing this directive]
[an error occurred while processing this directive]